There are various legalities in Spain that need to be completed when you come to live here. The important ones are getting your TIE or NIE in Barcelona and your social security number. Registering at the local town hall is a legal requirement also, and is called empadronamiento.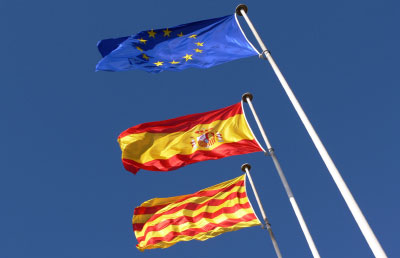 NIE (Número de Identificación de Extranjero)
If you're from an EU member state (or Switzerland) you don't need a work visa in order to work in Spain, but you do need a número de identificación de extranjero (NIE). You need to go to the local Oficina de Extranjeros (Foreigner's Office) to make your application. This is usually a police station.
The information on this page applies to people from EU member states only. Plus UK nationals who now need to apply for a TIE following Brexit.
TIE in Barcelona – following Brexit
The rules for UK nationals have changed because of Brexit. There are now two stages to applying for a TIE (Tarjeta de Identidad de Extranjero). This is a very brief summary of the new procedure, with a link to the UK Government website which gives a more detailed explanation.
Firstly, I advise anyone applying for a NIE or TIE to use a gestor – especially if you don't speak Spanish. The administration system is not easy, even to get an appointment can be challenging, and an administrator (gestor) will do all the hard work for you.
If you live in Spain and already have an NIE, you can apply directly for a TIE. The TIE is more like the Spanish DNI, it's a proper card, rather than a credit card-sized flimsy piece of paper, and it carries your photo. For British nationals already living here and registered as living here it's not yet a requirement to apply. That may change after 2020.
Before the 1st January 2021 UK nationals living in Spain can voluntarily apply for the TIE, and indeed have the right to apply. As long as you registered as a resident in Spain before 6th July 2020, you can follow the above process and apply directly for your TIE.
Two-step process to apply for your TIE
According to the UK government website, anyone who has registered to live in Spain after 6th July 2020, has to follow a two-step process to get their TIE.
The first step is to submit your residence application. This is done at your local immigration office (Oficina de Extranjeros). You need to request an appointment. If you have a digital signature in place you can do this online: Sede Electronica.
Once your residency is approved, the second step is to apply for your TIE. Again you need to have an appointment, and the correct paperwork and requirements in place.
As these processes tend to change I haven't listed the current documents that are required. The UK Government website explains that, and if you use a gestor, their job is to make sure you have all the correct documents in place.
NIE in Barcelona – How to apply
The process outlined below covers EU nationals (not UK nationals)
The processes for obtaining your NIE and Residency have changed several times over the last few years. At one point it was made much easier, but then the process became more difficult again. Now you first need to make an appointment online. That in itself is difficult.
There are two types of NIE. The basic NIE is for non residents. The second type of NIE is for residents. This used to be referred to as the Tarjeta de Residencia. Anyone living in Spain for more than three months should apply for this resident's NIE.
In fact, there are three types of NIE. After having lived in Spain for five years, you can upgrade your resident NIE to a permanent resident status.
Staying in Barcelona for 3 months or less
As a non-resident in Spain and staying here for less than three months, this is the type of NIE to apply for. It's easier to obtain than the resident's NIE. It can be upgraded at any stage if you become resident, and the number itself does not change. Previously this version used to expire after three months, but now it has no expiry date.
You don't need to apply in person for this NIE. You can give authority to another person (usually an immigration lawyer or gestor) to act on your behalf. The NIE when issued is an A4 piece of paper.
Staying in Barcelona for more than 3 months
If you are planning to stay in Barcelona for more than three months, then the NIE application process is more complicated. You have to prove that you have sufficient funds to support yourself.
You need to prove one of the following:
that you have employment or that you are self-employed
that you have sufficient funds to support yourself and have private health insurance
that you are a student (again with sufficient funds and private health insurance) in either a private or public school
that you are here to join a family member under the conditions of the European Economic Area
Basically you have to prove that you will not require the assistance of the Spanish Social Security while you're in Spain.
This type of NIE has no expiry date. It's issued as a small credit card-sized piece of paper. DO NOT laminate it, as this makes it invalid.
For EU nationals the Foreigner's Office in Barcelona city is Rambla de Guipúscoa 74
NIE application process

The application process is very similar for both types of NIE. You have to show more documentation if you're staying for more than three months (residency). You need to fill out different forms depending on which NIE you're applying for. Form EX15 for the non resident's NIE and form EX18 for the resident's NIE.
Firstly go online and organise an appointment. Below is the link to the website where you can make an appointment and I'm told the waiting period is about 2 – 3 weeks. The website is in Spanish, and I'm told it's not easy to get an appointment as the allocation is filled quickly each day.
How to make an appointment for your NIE
1. Here is the link to request an appointment online:
https://sede.administracionespublicas.gob.es/icpplus/icpplus
2. These links tend to change, so from the home page (https://sede.administracionespublicas.gob.es/) here is how to navigate to the correct page:
Choose: Extranjería > Cita Previa de Extranjería > Acceder al Procedimiento > then choose your province (Barcelona) and CERTIFICADOS UE.
That process takes you a page, where you can read all the requirements for your application (in Spanish). To continue to apply for your appointment, click "Entrar" and continue from there.
To apply for your NIE / Residency you will need:
Your receipt of your appointment (print this from the website)
Completed and signed application form
Your passport and a photocopy of your passport
Documentation to support your application, e.g. work contract, student registration, self-employment registration. If you don't have proof of work, you have to show proof of funds.
Private health insurance (depending on your application and status)
As long as all the paperwork is in order, you should get your NIE on the day of your appointment. There is an administration charge for the NIE application, which is about €10.
Why you need an NIE…
It's required by law
To open a bank account (resident's account – you can open a non-resident's bank account with your passport)
To receive unemployment benefit
To buy and sell property
To get a loan or a mortgage
To set up a business
To apply for a driver's licence
For tax payments
To open some utility accounts depending on the company, such as gas, water, electricity; and for internet and mobile phone contracts
To by a car
To register for Bicing and other transport sharing services.
Offices where NIEs are issued
The police office in Barcelona only deals with applications if you live within Barcelona city. If you live outside Barcelona city check below to find your local foreigners' office.
Barcelona city – Rambla de Guipúscoa 74
Badalona – Av. Dels Vent,s 9-13
Castelldefels – Pl. Esperanto, 4C
Cerdanuyola Del Valles – Calle Verge de Les Feixes, 4
Cornella de Llobregat (includes Esplugues) – Av. Sant Ildefons, s/n
Granollers – Calle Isabel de Villena, 30
L'Hospitalet de Llobregat – Rambla Just Oliveras, 43
Igualada – Calle Prat de la Riba, 13
Manresa – Calle Soler i March, 5
Mataro – Av Gatassa, 15
Montcada i Reixac – Calle Major, 38
Prat de Llobregat – Calle Centre, 4
Ripollet – Calle Tamarit, 78
Rubi – Calle Terrassa, 16-18
Sabadell – Calle Batllevell, 115
Sant Adria de Besos – Av. Joan XXIII, 2
Sant Boi de Llobregat – Parc Marianao, s/n
Sant Cugat del Valles – Calle Valles, 1-3
Sant Feliu de Llobregat – Calle Carreretes, 9-11
Santa Coloma de Gramenet – Calle Irlanda, 67
Terrassa – Calle Baldrich, 1
Vic – Calle Bisbe Morgades, 4
Viladecans – Jaime Abril, 2
Vilanova i La Geltru (includes Sitges) – Calle Vapor, 19 Bajo
Residency Permit (Tarjeta de Residencia)
The Tarjeta de Residencia is now an NIE – a resident's NIE (see above), or now for UK nationals a TIE.
How to Apply for a Social Security Number
TGSS – Tesoreria General de la Seguridad Social is the official name for social security in Spain. The main Social Security office in Barcelona is located at Av. Marques I, 08003 Barcelona. Tel: 93 310 4411 – which is opposite the train station Estació de França.
Here you can find a list of all the social security offices in Barcelona.
If you are working in Spain you need to register and obtain a social security number. You can also register as a self-employed person and choose to pay the minimum or maximum contributions. If you stop working, you must also notify the social security office.
The people who are eligible to register for social security in Spain are: employed and self-employed workers, students, civil servants and military personnel.
If you don't yet have a social security number, but have found a job in Spain, the company employing you should apply for your social security number.
In order to apply for a social security number you need:
Número Identificatión de Extranjero (NIE) or some form of national identity
Your passport (or certificate of residency)
There are many different social security forms for each different type of procedure, here's the link to all social security forms. (Not available in English at the time of writing.)
On registration you will be given your certificate with your social security number. With this number you can also register with a doctor in Spain.
Empadronamiento or registering at your local town hall
This is obligatory for anyone staying in Spain for more than a short stay. Each barrio (neighbourhood) has a town hall (ayuntamiento) and you need to register there.
If you have a rental contract for where you are living this is a very easy process. Simply take your passport and rental contract to the local ayuntamiento and you will be registered.
You will be given a piece of paper certifying this, and it's a good idea to ask for a few copies, as you will need to show or give your empadronamiento certificate for many other administration processes and it's good to have extra copies.
You may have problems registering at your local ayuntamiento if you don't have a rental contract. The Ayuntamiento will accept a utility bill in your name such as a gas or electricity bill, and you could also try a mobile phone bill. Basically you need proof of identity and proof that you're living at your address. The main thing that they seem to be interested in, is that all the documents are originals, they will not accept photocopies of anything.
If your name is not on the rental contract – you are sharing a flat with another person, for example, who holds the contract – you will need to ask the person who has the contract to complete a form called Autorización de Empadronamiento, which you must first obtain from the ayuntamiento.
This form requires that the person who is registered at your address (they must be registered at the Ayuntamiento at the same address) verifies that you are also living at that address.
The person needs to complete and sign the form, and also give you a photocopy of either their DNI or passport (in this case a photocopy will suffice).
Take this documentation back to the ayuntamiento together with your passport and you will be registered.
If you are sharing with people who are not registered at that address, then you have a problem.
You have to show the original copy of the rental agreement to the ayuntamiento (so you have to request this from whoever holds it), together with the completed Autorización de Empadronamiento form, plus a photocopy of the person's DNI, and, it goes without saying, your passport.
ITP (Impuesto sobre Transmisiones Patrimoniales)
You can read the full article here on how to pay your ITP. ITP is a tax that is charged when you rent a property in Spain for the short to medium term. The charge differs between autonomous regions; in Catalonia it's 0.5% of the total rent. For long term rentals it's 0%, but should still be filed!
British Embassy Website
The British Embassy website offers good advice in English on moving to Spain and on what you should do before you make the move:
British Embassy website.
UK Consulate, Barcelona
Av. Diagonal 477, Esq. Eixample. Tel. 93 366 62 00. Mon – Fri: 9.30am – 1.30pm; 4 – 5pm.