Which are the best banks in Spain? More importantly – the best Spanish banks that offer free banking. Read on.
Money and Banking in Spain
It's important to organise your money and banking in Spain as soon as possible. There are many banks to choose from such as: HolaBank, Banc Sabadell, ING, Santander, BBVA, etc. I bank with ING and am very happy with the service they provide.
Opening a Spanish bank account
To open a non-resident's account all you need is your passport, or your non-resident NIE and photo ID. However, not all banks offer non-resident accounts.
If you have your resident NIE, legally you should open a resident's bank account. To open this type of account you will be asked to show your resident NIE (or TIE if you're from the UK or any other country not in the EU) photo ID, an address in Spain, a contact telephone number, email, and your employment or work details. (The resident NIE was formerly called a resident's permit: tarjeta de residencia.)
If you can open a bank account online or in person on one of your visits to Spain before you move it will help you a great deal.
You will need a bank account with a Spanish IBAN to contract many services in Spain, such as utilities and internet. Long-term rental contracts require your Spanish IBAN too. Therefore, you need a Spanish bank account. However, in many cases, particularly if your income is outside Spain, a second account with a company such as Wise or Revolut gives flexibility for both banking and money transfers, as well as saving money on currency exchanges.
Below I've reviewed several accounts and stated which can be opening with or without an NIE.
Open Bank
Open Bank is an online bank from Santander and they offer an account called a Basic Payment Account. Their website can be switched to English and the account can be applied for over the telephone, or at their branch in Madrid.
You don't need a NIE to open this account. You must not however, have any other bank account in Spain – this is an important requirement that Open Bank makes. It's a non-interest bearing account, with no costs. You get all the basic banking features of a current account and you can apply for a debit card.
This is a good way of getting a bank account set up in Spain, with a Spanish IBAN, before arriving in Spain, and without having a NIE.
www.openbank.es/en/basic-payment-account
N26 – The Mobile Bank
N26 is an online European bank, now also operating in Spain. There are no branches; all operations and transactions are implemented from the N26 app (therefore you need a smartphone to open and use an account). A NIE is a requirement to open an account with N26 in Spain.
There are three types of current accounts available. The basic 'N26' current account offers completely free banking. The 'N26 You' account has a monthly fee and gives extra services such as customer offers and travel insurance. The third account option is called 'N26 Metal', has a higher fee per month but includes even more perks, such as car rental insurance when travelling, and mobile phone theft and damage insurance (among many other things).
An N26 debit Mastercard comes with each account automatically. This card is accepted worldwide and there are no withdrawal fees anywhere in the EU. N26 offer two types of business account too: 'N26 Business' and 'N26 Business You'.
It's the ease of use, flexibility and security that make N26 so attractive. It's a modern bank offering services in the digital age to make your banking and saving easy.
One particularly useful feature is that Wise is built into the N26 app. This allows you to make easy low-cost international transfers to 19 different countries.
The N26 customer service team speak several languages: English, Spanish, German, Italian and French. The bank was founded in 2013 and now has more than 5 million customers. Very importantly, every N26 bank account is guaranteed under the Compensation Scheme of German Banks up to €100,000.

HolaBank

HolaBank is part of CaixaBank and is an account for international clients. You can apply for an account via their website and once opened you have three months to go into one of their branches to verify your identity. They offer banking in various languages.
I've had varying feedback about opening this account online. Some people tell me that it all went smoothly and others tell me that after completing the online application they never heard anything more. Certainly, if you're planning a move to Spain it's worth a try, because it's so much easier to be able to open an account online. If successful you get banking in English (and 5 other languages) and a Spanish IBAN. They charge an annual fee, which at the time of writing is €140.
If you're an EU citizen you don't need an NIE to open this account. If you're a non-EU citizen you do need an NIE.
www.caixabank.es/particular/holabank
Banc Sabadell
If you don't speak Spanish, Banc Sabadell is another option as they offer banking in Spain in English, as well as several other languages. That includes online and telephone banking in English.
However, you do need to go into a branch to open an account. You can start the process by email or telephone, but before the account is activated you have to show your original ID and sign their paperwork.
Their Key Account is aimed at expats. There is an annual charge for the account, but all transactions are free. You get free international transfers from a Banc Sabadell account up to €20,000, and a translation service for up to 10 documents a year.
Banco Sabadell offer both non-resident and resident bank accounts. Note: You don't need an NIE to open a non-resident bank account here. A non-resident account can always be upgraded to a resident bank account at a later date. With Banc Sabadell the account number doesn't change when this happens, which is very useful.
Wise
Wise offer multi-currency bank accounts with free banking for both personal and business bank accounts. You don't get a Spanish IBAN, however, there are a lot of advantages of having an account with Wise.
This company offers a new and innovative way of transferring money into different currencies. I use them on a regular basis for both banking and money transfers. Their system is very clear and easy to use online. Fees are low, currency exchange rates are good and transfers are fast. You don't need a bank account with them in order to use their money transfer service.
Their bank account is called a Borderless account. One account can have several currencies attached to it. You're then able to accept payments to this account in any of those currencies, for free.
Bank accounts can be personal or business and linked to other bank accounts in your home country. Therefore, you can send money or withdraw money to and from the Wise borderless account. It's a very flexible system, with very low or zero fees depending on your balance and the type of transaction.
A percentage fee is applied, but compared to zero fee currency transfer companies, the final total you have to transfer is less in most cases. Even with their fee, they beat other no fee transfer companies.
Excellent service for banking in different currencies.
Works really well when travelling.
Excellent customer service.
Bank accounts come with Mastercards – see my separate review of Wise Mastercards below.
Revolut
Revolut have recently (August 2023) opened in Spain, so Spanish residents can now get a Spanish IBAN with a Revolut account. Revolut say that your country of residence needs to be Spain, so I understand that to mean that you need to have a resident NIE in order to open an account.
Revolut is an online / app account. They offer three types of account with the most basic account being free to open and maintain – the other accounts which incur a monthly fee give good benefits. This account is great for people who travel a lot, are digital nomads or simply have clients in various countries. International and foreign currency transfers are easy and cheap, and any fees applied are very transparent.
Revolut offer both business and personal accounts, which can be opened quickly from via the app.
ING – Free Banking in Spain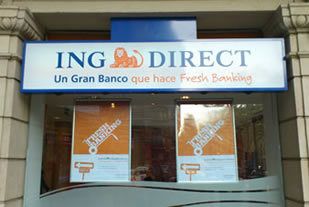 I bank with ING and have done for many years. If you speak Spanish, my recommendation is to open an account with ING. You can open an account online if you know some basic Spanish (there is no English language version of their website).
They have various accounts. The Cuenta NoCuenta account is quick and easy to open online. Their Cuenta Nomina requires that your salary or a certain amount is paid into the account every month. You need an NIE to open both accounts.
ING have no bank charges, and you can manage your account online or via their app. They also have a 24 hour help line (Spanish only).
They have one branch in Barcelona, but ING partners with other banks to give customers access to other banks' cash machines (some free of withdrawal charges and some with charges).
Using the ING app, you have access to cashback at certain shops and petrol stations. This gives customers additional ways to withdraw cash without charge, although you do have to make a purchase – there's no minimum spend. ING also supports Bisum.
Currency transfers & foreign travel
Moving money directly from your foreign bank account to a Spanish bank account can incur large fees. Particularly from outside of the EU. You'll lose on the exchange rate between currencies, and most probably be charged an administration fee by your bank. This admin fee can be hefty. However, with a little knowledge you can avoid or substantially reduce these fees. My first recommendation is Wise. I use them all the time for money transfers:
www.wise.com
Save money on currency exchange when travelling
Avoid credit or debit card charges and poor currency exchange rates and commissions when travelling by thinking ahead and using a credit or debit card designed for use in different countries.
I recommend the Wise debit card. I have two, a personal one and a business one, and wouldn't travel without them.
Wise debit card
Wise are now so much more than a currency transfer company – they have recently changed their name because of this. With their bank account – which is free and easy to open online – you can apply for their debit card. (The bank account also lets you send and receive international transfers in different currencies very cheaply.)
The card is linked to your Wise borderless bank account, giving very low or zero fees for withdrawing cash when abroad, as well as for purchases abroad.
Before you travel, add funds to your Wise account in the currency of the country or countries you're travelling to. There's no charge to use your Wise debit card when in those countries if you have a credit balance. What's more, you can add multiple currencies.
The Wise bank account can be linked to other external accounts or debit or credit cards, making it easy to feed money into the Wise account when needed.
Here is a summary of the charges:
Free to pay with currencies in your account
Free ATM withdrawals up to £200 a month
Only pay a small conversion fee when you convert your money – typically between 0.35% and 1%
Automatically convert your money at the real exchange rate
Money transfer companies
Currencies Direct
Currencies Direct offer competitive exchange rates to transfer money abroad. They don't charge a transfer or admininstration fee.
First you need to register. You money is transferred from your bank account to a Currencies Direct bank account. Then Currencies Direct transfer an equivalent amount from their overseas account to your destination account.
The Currencies Direct website includes various tools to help you save the most on transfers, including a currency converter and rate watch/alert tool. They have several offices in Spain, where they've been operating since 1999.
Read a more detailed review of Currencies Direct at www.moneytransfercomparison.com.
Key Currency
Key Currency is also a money transfer company offering good exchange rates for international money transfers. They are authorised by the FCA and don't charge fees. Again, you first need to open an account. Their website gives quotes on their current exchange rates. They offer personal and business accounts, and you can make single or recurring transfers.
With Key Currency and Currencies Direct you need to plan ahead and give yourself time to register with them before being able to make a transfer.
Some of the links on this page are affiliate links. This means that when you click on those links to go to an external website, and then make a purchase or sign up for a product, movingtobarcelona.com will receive a small commission. Your deal is not affected and you are not charged more. These commissions enable me to maintain this website. To find out more about how affiliate links work on this site, please read the info on our
About Us
page.